Note
: This feature is exclusive to Pro and Advanced plan subscribers
.
Zenfolio provides a flexible e-commerce platform that allows selling of prints and other products from your photographs. You can sell
products from our partner vendors
, your own
self-fulfilled products
,
digital products for download
, and all types of products
packaged
together as you see fit.
​
Please see this video to see a demonstration of the steps required to sell through your site.
Selling General

Ou

tline
Here are the general steps you will need to follow to start selling your work through your site.
For Digital Download products and Self Fulfilled products, you will need to create the products first then add them to the price list the same way Vendor Products are added.
After doing all of the above, make sure to fill out your Payout Profile info. This is where you set how you would like to receive your profits.
Starter subscribers can sell their photos using base lab prices. Pro and Advanced subscribers can set their own prices, create self-fulfilled products, and digital products under
Selling
in the main menu. Selecting
Selling
takes you directly to the Selling Overview.
Selling Overview
Selling Overview provides a quick review of your current sales information. Pending Orders shows how many orders from your website are in the process of being completed, as well as which orders may need attention to complete their processing. Shortcuts to modifying the information shown are made available.
A brief overview on Getting Started with Selling can also be found in this area. We highly suggest you read this overview if you are interesting in selling your photographs.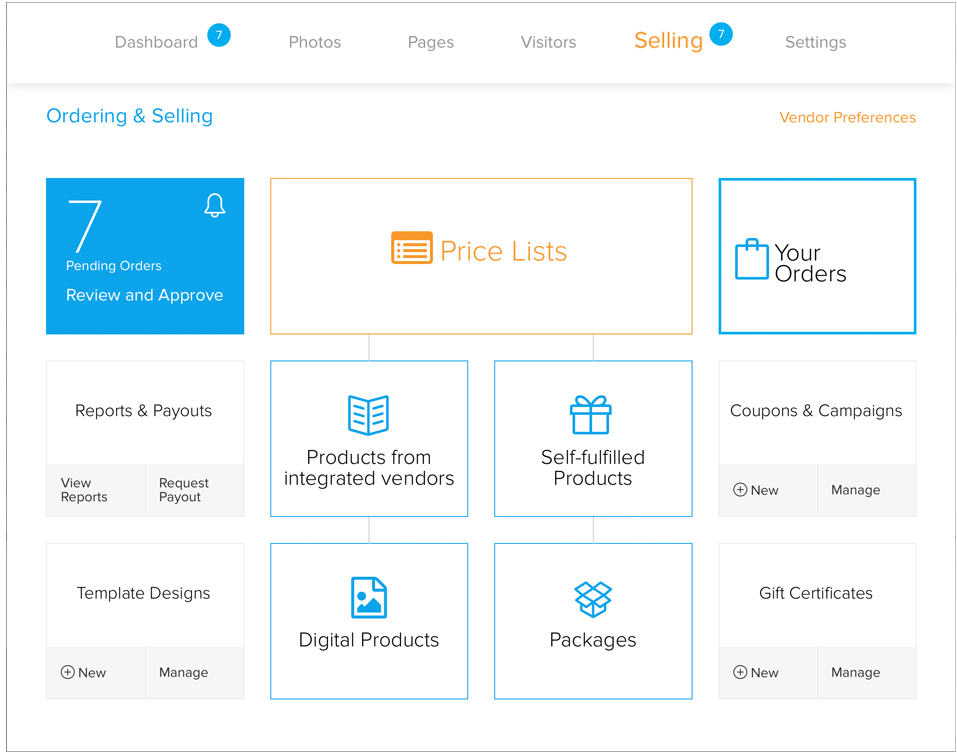 ​
If you're ready to take your passion to the next level, our flexible e-commerce platform enables you to easily print your photos and sell them.
Getting Started Selling Products
If you are interested in selling self-fulfilled products, digital products, or packaging these products into groups for sale, this will need to be setup first.
Self-fulfilled Products need to be defined, including how they will be shipped and how you will accept payment.
Digital Products must be setup with a specific license agreement for how the product may be used.
Packages need to be defined with a set selling price.
Selling products fulfilled by Zenfolio partner labs is the easiest solution as they are already pre-defined. Once all the products have been created, they will need to be added and configured in a price list, before they can be added to any photograph or sets of photographs. Price Lists explain in detail the process of creating, configuring, and implementing a price list for your products. After your price lists have been implemented, you will want to use Reports to keep track of sales, and transferring payouts for sales completed.
If you are ready to start selling products fulfilled by Zenfolio partners, please go directly to Price Lists.
Selling Preferences include:
For vendor products, we use only the best print vendors in the industry with a proven record of quality and attention to detail. You can take advantage of our complete integration with these vendors, enabling you to track an order from the time it was placed through printing, packaging, and shipping.