Once you have an account with Zenfolio, your site is live and online with all the building blocks in place. You'll be able to add content, implement a site design, and add a few finishing touches.
Please note that some features below are not available at all account levels. See a detailed comparison
here
.
Here is the outline of the recommended first steps in setting up a professional portfolio website:
Start your website by uploading and organizing your content. This includes visuals such as photos for your portfolio, an image of yourself, and a logo to brand your site with. You'll also be able to add textual content such as 'about' information to the welcome message on your homepage.


Apply a Unique Logo

Please note: the ability to display your own logos on your site is limited to Trial, Pro and Advanced subscribers.

Having your own logo is a way to visually brand yourself and your photography. You can display a logo in different sections of your site such as your Homepage, Site Header and Site Footer. The Mobile Logo will appear on smart phones. You may also upload a Web Browser Icon (Favicon).

The recommended guidelines for sizing can be found in the Support Center. With the exception of the Web Browser Logo (Favicon), all logos should be saved as a PNG file with a transparent background. This allows the website background color or image to appear behind the logo.

The Favicon should be saved as an image without transparencies (jpeg) for best results.
​Configure the Public Profile

You can display information about you and your photography business in your site. You can let visitors know about the name of your photography business by modifying the Display Name, Homepage Title, and Copyright. You can create a Welcome Message for display on your homepage. You can also create an About Message that describes you and your photography. You can also display your own Photo on your site so visitors will know the face behind the lens.

You can also display your Contact Information (phone number, email address, etc) in your Contact Page.
Customize your website through our intuitive graphical interface. It is all done with no coding required from you. Select layouts and choose your elements for each page. Apply a different theme to every gallery, or design your own unique theme for the entire site.
​Configure the Homepage

The best place to begin designing your website is by customizing your Homepage. While viewing the homepage in Customize Website View, you can choose a Site Preset. Site Presets apply a preset template to every page in the site, allowing you quickly customize the entire site in just a few clicks.

You can further customize the site by applying a different Layout to each page. Layouts control the placement of elements on the page.

You can also change the colors and fonts used in the site by applying a different Theme to your site's pages. You can also manually choose the desired colors and fonts by creating a Custom Theme.

Page Options allow you to further fine tune the site by allowing you to show or hide different elements, and configuring them as necessary.

In addition to customizing the homepage, you can also customize other built-in pages in your site such as your galleries and groups.

Lastly, the changes made in Customize Website View do not apply to your actual site until you Publish the changes. So feel free to experiment with different combinations of Layouts, Themes and Options until you're happy with your site.
Put a Spotlight on your Work

The Homepage Spotlight or Background Content is the first thing visitors see when visiting your site. The content displayed can be a slideshow of images or a single photo or video.

With Background content, displaying a Photo Strip also an available option.

Create a gallery specifically for this content then upload the photos you wish to display to that gallery. It's best to keep all photos or video the same aspect ratio and to use only horizontally oriented photos (not portraits). You may also want to hide the gallery from visitors. This way the gallery itself is not displayed in the site.

You can configure the Spotlight Content or Background Content options when viewing the homepage in Customize Website View.
Select or Design the Site Theme

Themes control the colors and fonts used in the site.

Different themes can be applied through Customize Website View.

By default, the theme applied to the Homepage becomes the default website theme. A number of pre-made Themes are provided so you can quickly change the colors and fonts by applying a different theme. You can also manually choose the colors and fonts applied to your site by creating a custom theme.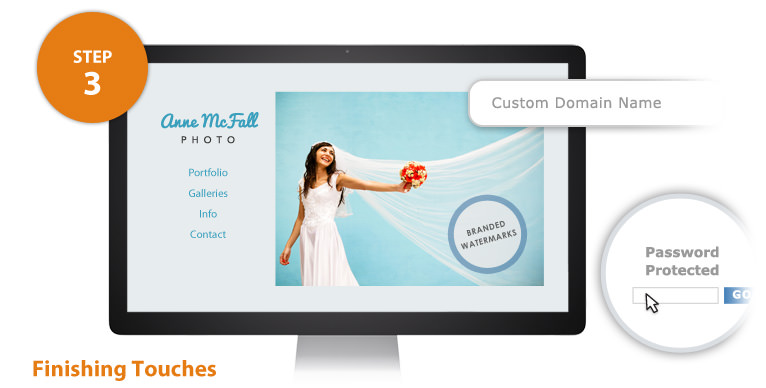 Once you've added content and applied your design, your website may be ready for public viewing. However, there are a few finishing touches you may wish to add before inviting people to view your portfolio or look at client galleries. Here are a few suggestions.
Get a Domain Name

Purchase a custom domain name from a registrar to have a unique online presence. Pointing your custom domain name to Zenfolio is a two-step process. First, update the DNS settings at your domain registrar, then test the DNS setup in your Zenfolio account.

For ease of use, check out iwantmyname.com to register or transfer your domain name. They have an instant 1-click setup option right after purchase. Once applied, you'll still need to go to your Zenfolio account's Custom Domain page and test the DNS setup for your Custom Domain.
Congrats!
You've completed the initial setup of your site!
Find out what else is possible with your Zenfolio account.
Check out our video tutorials page -
http://www.zenfolio.com/us/z/help/support-center#/customer/en/portal/articles/2453739-video-tutorials
Check out our blog for the latest updates and inspirations -
http://blog.zenfolio.com/blog
You can also join our Zenfolio User Forums where you connect with other Zenfolio users about Zenfolio and the photography business -
http://forums.zenfolio.com/
For additional help, check out our Support Center for illustrated help guide articles that can show you every step in setting up and editing your site -
http://www.zenfolio.com/z/help/support-center#/
But also feel free to contact us directly through our contact page anytime -
https://secure.zenfolio.com/us/z/help/contact