Your main email address and password are very important. The main email address is used to verify account ownership when contacting Zenfolio.
Before we can answer questions about the account or make any requested account changes, we require that the person making the request first verify that they own they account. By contacting Zenfolio using the email address listed on file with the account, this verifies that the sender is the verified site owner.
​
Password Security
The password is also important as it provides direct access to the account. Always make sure to note your own password and keep it in a secure location. Also never share your password with others- doing so will give that other person the ability to access your account.

It is your responsibility to maintain the security of your password. No one at Zenfolio can see or retrieve your password. If you forget your password, you will need to go through the Forgot your login? process to reset it.

For security reasons, you need to provide the current password before changing your email address. You will receive an email message notifying you about password or email changes to your account.


Strong Passwords
When creating the password, make sure not to use any passwords that can easily be guessed by site visitors. Don't use any words that are contain the name of your site or business. Do not use any commonly used passwords that are easily guessed.

To Change your Email and/or Password that is associated with your Login
In the Dashboard, click on Settings in the top menu
Under Account click on Email and Password
Under Change Password enter your old password then enter and confirm your new password
Under Change Email enter your current password then enter and confirm your Email address
Click Save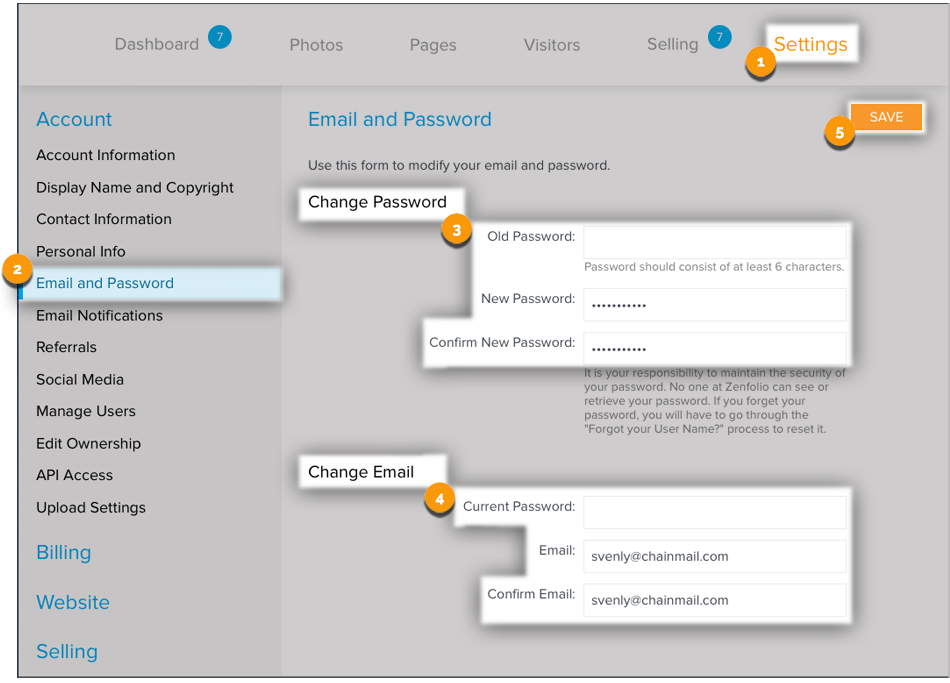 Change Email and Password using the New Photos Page
Hover the mouse pointer over your username in the top right corner. Click on Account in the menu that appears.
Click on Email and Password on the left under Account.
Use the fields provided to change the email and/or password. The current/old password will also need to be entered when making any changes.
Click Save.