Your Zenfolio subscription will renew automatically on your renewal date. The renewal date is the day you signed up for your paid subscription and is shown in your account as the expiration date.

If you have any credit in your account, that will be applied towards your renewal cost first. If you have a balance after your credit is used or you have no credit, the remainder of the renewal costs will be charged to the credit card on file in Payment Information.

Please note that only credits in the account's native currency will be applied towards renewals.

Please make sure that your Payment Information is up to date to ensure there is no interruption in service.

If your account has already expired and you would like to renew, you have 14 days to do so.
For instructions on renewing your account manually if your account has expired or has suspended please click here!


You can find the renewal/expiration date for your account in your Dashboard.
Go to Settings

.

Click on Account Information

.

The main area of the page will show the date your current subscription will expire and renew.



Renewing and Reactivating your account if it has been suspended
Although the renewal process is automatic, if for some reason there is a subscription payment that has been declined or if updated payment information is required, there is a chance the the renewal might not go through.
Even when an account does not successfully renew on the renewal date, the account will not close immediately. Instead, the system will attempt to charge the credit card on file again a week later and, if that fails, one more subsequent attempt will be made one month after the expiration date.
This grace period is provided in order to give some additional time to update or
enter valid payment information
into the account.
Most accounts that are suspended due to failed renewals are suspended because the credit card renewal charge was declined by the bank. For this reason, we recommend contacting the credit card issuer to make sure that credit card on file is able to accept the online renewal charge from Zenfolio.
If the payment information in the account is still not able to accept the renewal charge, the account may become suspended after the 2nd renewal attempt. When the account is suspended, the photographer will still be able to log into the account and
update the payment information
, and proceed with renewing the account manually. However, those with suspended account will not be able to upload new photos and create new blog posts.
In the case that the account is suspended, the photographer is able to manually Renew the account by logging in at
Zenfolio.com
, clicking on your Dashboard Alerts then clicking on the Renew button.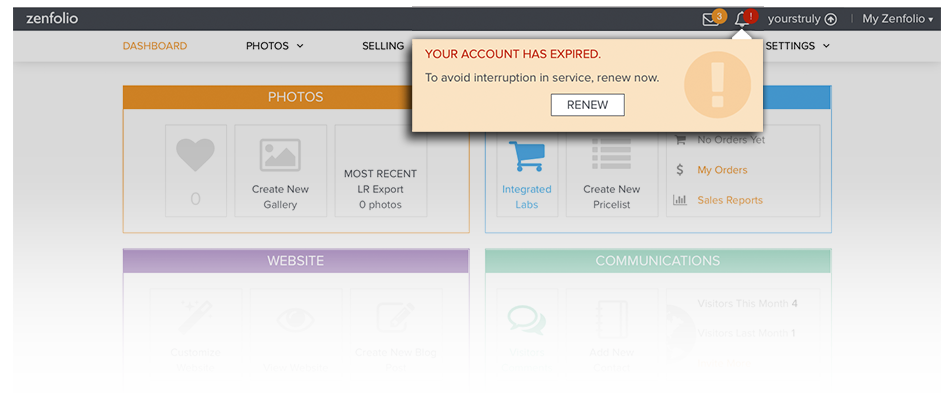 ​