With Zenfolio accounts, you can use your own Custom Domain with your Zenfolio site.

GoDaddy is one of many Domain Registrars/Hosts that you can use to register and host your custom domain. To use the domain with your Zenfolio account, you will need to log in to your GoDaddy account and make some changes to your DNS Zone File to point the domain to Zenfolio.

This guide covers pointing a subdomain to Zenfolio through the addition of a Cname (Alias) Record.

The CNAME (Alias) record is a type of record in the DNS which specifies that the domain name is an alias. The Alias name is the sub-domain you want to use. For example "photos", or "clients" which will display as photos.yourdomainname.com or clients.yourdomainname.com in the address bar of your Zenfolio site.

Please see this guide if you would like to point the entire domain (like yourdomainname.com) to your Zenfolio site.
The steps provided are based on the last known setup for this domain's DNS administration page. If the steps are no longer accurate, please see
this page
for the most up-to-date instructions on editing the DNS records for this domain host.
Step 1
Login to your GoDaddy account.
In the My Products page, click on DNS next to the custom domain you would like to use with your Zenfolio account.

While viewing the DNS Management page, scroll down then click on Add.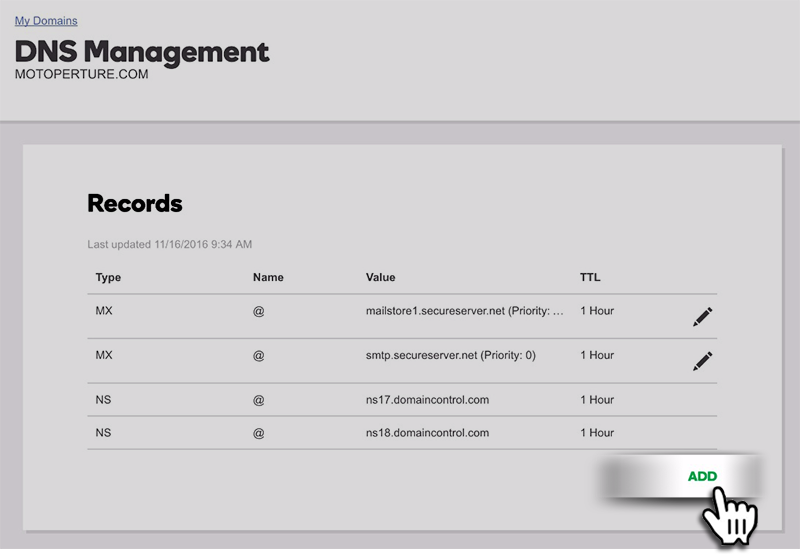 A small window will appear with a drop down menu that can be used to add a DNS record.

Choose Cname from the Type drop down menu.
Enter the desired subdomain (e.g. clients, gallery, photos, etc) for use with the Zenfolio site under the Host field.
Enter custom.zenfolio.com for the Points To field (make sure to enter 'custom', do not change the 'custom' part).
Click Save.



Scroll up again and look for any other Cname records that use the same subdomain (e.g. clients, galleries, photos, etc). If there are other Cname records for for the same subdomain, delete them until there is only the one subdomain that was created that points to custom.zenfolio.com.



When completed, it should looks like below:


​While on the DNS Management page, scroll down and look for the
Forwarding
section.
Make sure that no forwarding it set up for the domain. It should look like the screenshot below.

Once you have finished these settings, it may take up to 48 hours for the changes to be seen across the internet, so please be patient.
Step 2
Following the instructions in Step 1 directs your custom domain web traffic to Zenfolio. The next step is to set the domain to your Zenfolio account.
Return to your Zenfolio account then go to Settings.
Go to Website.
Go to Custom Domain.
Select Point a custom domain name to your Zenfolio pages.
Enter your domain name. Be sure the domain you enter begins with the subdomain/Cname you've created (e.g. photos.customdomain.com, galleries.customdomain.com, clients.customdomain.com, etc)
Click Test DNS Setup.

If the Test comes back with the message
The domain name is configured correctly
, click
Save
and you are done.
​If it comes back with
This domain is not configured correctly
, then you will need to wait longer or check your settings at your domain registrar.
Some common Issues to look for:
Cname record pointing to Zenfolio was not created.
Cname Record is not pointing to custom.zenfolio.com. The custom part should NOT be edited or changed.
Domain is using nameservers from another service. The domain should use the domain host's default nameservers.
If you've verified that your account has the correct DNS Settings and after 48 hours your custom domain is still not working, please send an email to
Customer Support
for assistance. Please include a screenshot of your DNS settings from inside your Domain Registrar account. See the illustrated guides for examples.