A visitor sign-in page may be added to a group, gallery, or collection to gather information from those interested in your photographs.

You may require specific fields to be completed, or make them optional. The information you collect can be automatically added to your contact list and sent to you via email.
Setup a visitor sign in page
In the Dashboard, select the group, gallery, or collection you would like to use in the Organizer. Information about the gallery will load under the Toolbox.
In the Toolbox under the Visitor Sign In section click Edit. A Visitor Sign In window will appear.
Uncheck Same as Containing Group if necessary.
Mark the circle for Display a visitor sign-in page before allowing access to the gallery.

- Check the Send email option if you would like to have an email sent to you with the information provided by the visitor.

- Check Automatically update my Contact List if you would like your contact list automatically updated with the new information and a reference to what galleries were viewed.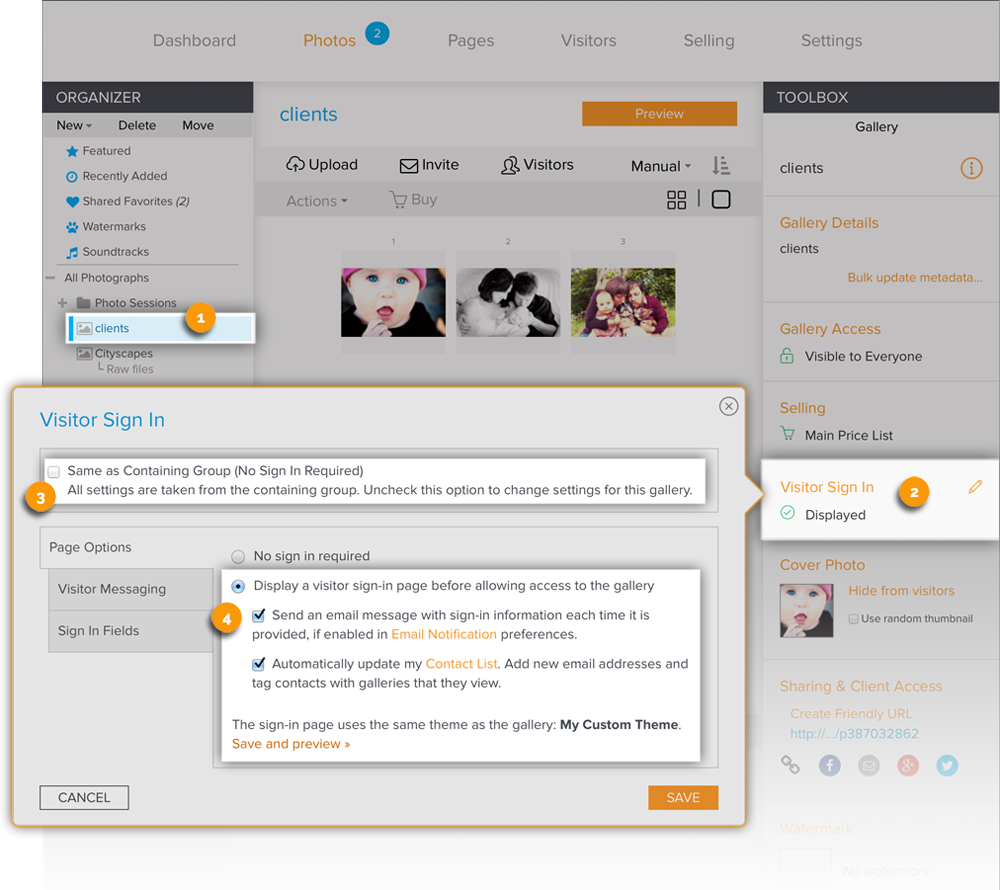 In the Visitor Sign In window, you can find two more tabs with additional editable options.
Visitor Messaging
Page Heading - Use this to edit the Title of the Visitor Sign in displayed to your clients.
Message to Visitors - Use this to communicate a message to your visitors during visitor sign in.
Sign in Fields
Select the related radial button to set a field to be required, optional, or not shown. You may also add one custom field.

Use the link Save and Preview to see how the visitor sign-in page will look.



Click Save to apply the Visitor Sign in to the group, gallery or collection.