Note
: Selling Photo Books for a profit is exclusive to
Pro and Advanced
account subscribers.
Photo Books are available from our vendor partners
Mpix
and
Mpixpro
for sale through the shopping cart. There are several templates available for customers to select from, each with different options.
In addition to selling Photo Books, the option is also available to provide clients with an easy photo album design service, through which they can have a
custom hand-made photo album
designed and printed for them.
Please note: For a photo to be printable on photo books, the photo must have at least 250 pixels per inch or higher
Add Photo Books to a Price List
In order to sell Photo Books next to other products, photo book products will need to be added to your price lists.
In the Dashboard, select Selling from the Main Menu.
Click Price Lists. A new page will load​

Click the name of the price list you would like to edit.
With the desired selling currency selected, click Add Products. A new window will load with all of the products available for that currency.
Use the Show: Vendors drop down menu and Settings to filter the list of vendors or leave it set to Show: All Vendors to display products from all vendors.
Find the Albums and Books category and click on it.
Use the subcategories listed to further filter the products displayed by subcategory.

Check the boxes next to the type of photo books you would like to add to your price list.

Click Add Selected Products. Your price list will be updated with all of the items added, listed by category.

Repeat steps 3 through 6 until you have added all your desired products.

After adding the photo book products, make sure to set the desired selling price for the products.

Once you have finished, click Save to apply your changes or continue to the steps below to limit the photo book template options.


To choose the specific Photo Book Templates that you want to offer under the Price List:
Click on the Photo Books products category to display the products in this category.

Look for the desired photo product then click on it.

Click on Edit Templates next to Design Templates Offered.
Mark the circle for Selected Templates.
Select the Template Designs you wish to sell by checking the corresponding circles.
Click Select.
Click Save to save the changes to the Price List or click Save & Assign to also assign it to your galleries.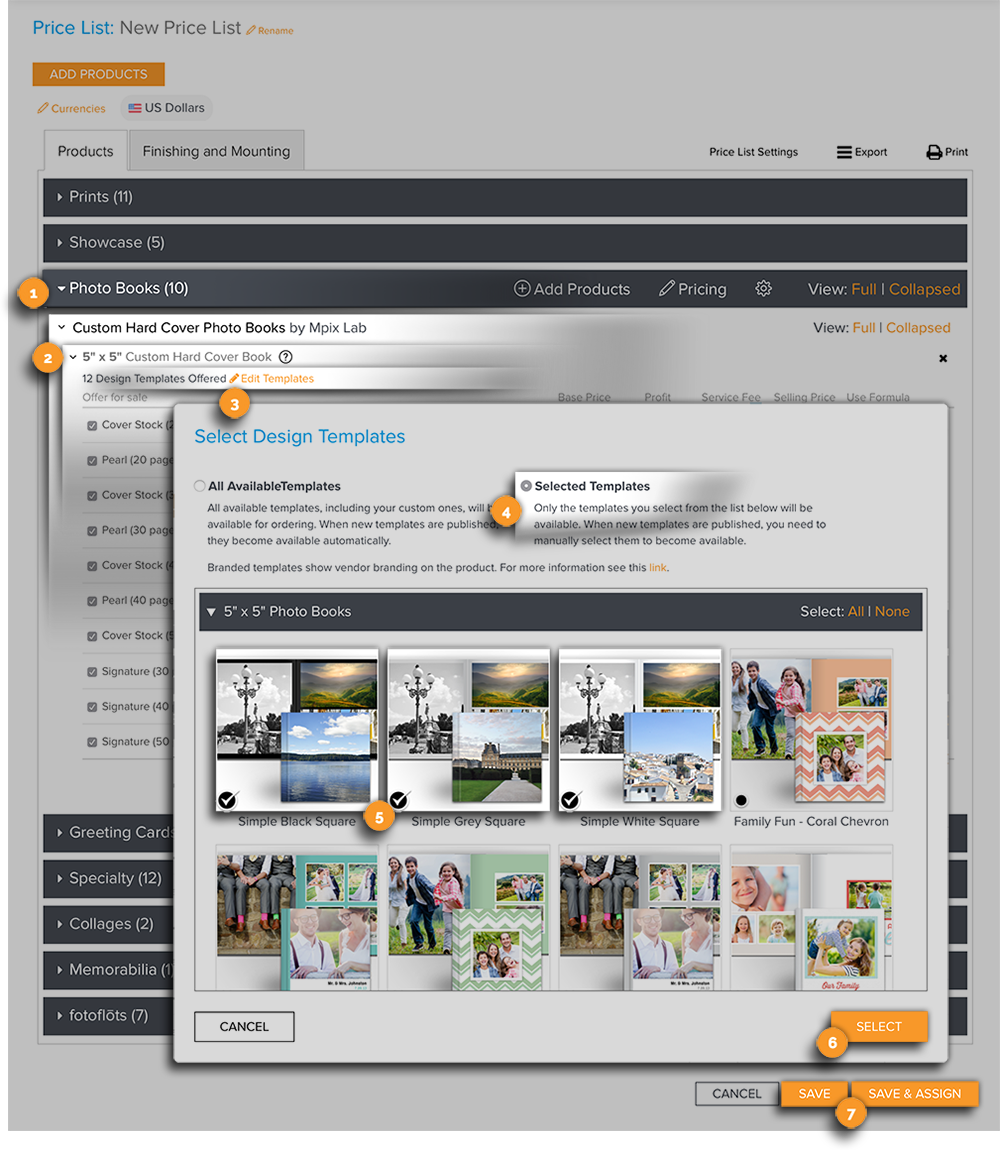 You will need to set your
Prices
and paper stocks you want to make available to your customers
.
Your clients will now be able to Buy the Photo Books by visiting the gallery,
clicking on the Buy button
, then choosing the Photo Book product. You can also refer your clients to
this guide
which goes over the photo book design and ordering process.